Furnishing Solutions is a full service design firm specializing in high end residential and commercial spaces.
Every new project brings an exciting new challenge and chance to artistically create a unique space for the client. We believe the best interior design is not just a reflection of the clients taste, but a blend of form and function, with color and texture.
Our Allied ASID certified designers have great relationships with industry leading vendors in wall and floor coverings, lighting, and fabrics as well as furniture, antiques, and art.
We welcome the opportunity to help create a fresh new look for you.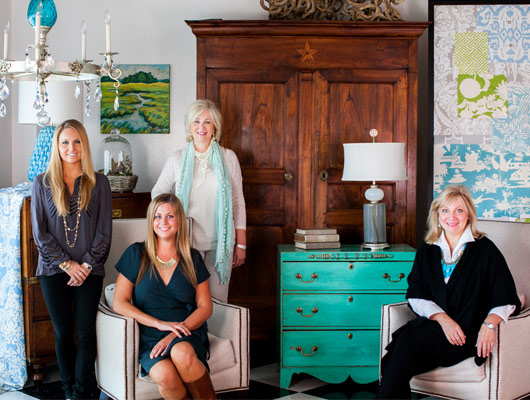 Marian Harrison
PRINCIPAL
ASID ALLIED PROFESSIONAL
Marian is committed to classic design and is drawn to the approach of infusing antiques and original art with fresh modern fabric to establish a unique transitional edge for the home or work place. Marian has a Bachelor of Science degree from University of North Carolina and Bachelor of Arts degree from the American College for the Applied Arts, and has 20 years' experience in store planning, visual merchandising, and interior design.
Furnishing Solutions made the process fun and ensured everything we selected would go together well and flow in the house. Marian helped find selections I wouldn't have chosen on my own that look perfect in the house. Her advice was invaluable in making our remodel a success. — Wes and Emily A., Raleigh NC
Susan F. Brown
ASID ALLIED PROFESSIONAL
A native North Carolinian, Susan Fentress Brown uses her innate sense of classic southern style to create comfortable, elegant, residential interiors. With 20 years of experience, Susan has completed design projects in New York, Pennsylvania, Washington, D.C., Florida, and Virginia, as well as the coast and mountains of North Carolina. She holds a Bachelor of Science degree from East Carolina University and has completed graduate studies at the University of Kentucky.
I appreciate Susan's ability to help me make the most of my existing furnishings while sparking interest with fresh new pieces. — Lark J., Raleigh NC
Kelley Mann
ASID ALLIED PROFESSIONAL
Kelley graduated from Meredith College with a Bachelor of Science degree in Interior Design in 2011. As a recent graduate, Kelley offers a fresh take on interior design. She specializes in producing computer generated renderings and floor plans to offer clients a clear vision of finished designs. She is also the marketing and advertising specialist for Furnishing Solutions. Kelley enjoys working with clients to select fabrics, furnishings, and accessories to create an interior space that is cohesive.